Cast iron skillet chicken breast is full of flavor, tender and juicy. You only need a few common ingredients to whip this up quickly. It's great on its own, or add it to salads, wraps, bowls, and more.
This cast-iron skillet chicken breast is a favorite over here. It's one of those proteins that you can whip up in a flash, or make a big batch to use throughout the week.
It's just so versatile. You can add it to so many things, or use it as a main course and serve it up with some sides.
It took some time, but I found (in my opinion) the perfect blend of herbs and spices to season chicken with. This cast-iron skillet chicken breast is juicy and bursting with flavor. Throw it on the grill or use a cast iron grill pan or skillet.
There were many times when I served less than ideal chicken breast to my fiance (poor guy). But now, those days are over. And they ended with this recipe. When I served it to him on my Loaded Cobb Salad, he said, and I quote "this is the best chicken I've ever had". He said it was restaurant quality taste, and I knew I had to get this recipe up on the blog
Here's a Tip: Make a big batch of this seasoning and store up to 4 months. This makes it even faster in a pinch because you don't have to get out a bunch of different spices each time.
Anyways, let's get to the recipe.

Ingredients you will need:
1 lb boneless skinless chicken breast
Avocado oil
Cumin
Paprika
Cayenne pepper
Garlic powder
Oregano
Onion powder
Salt & Pepper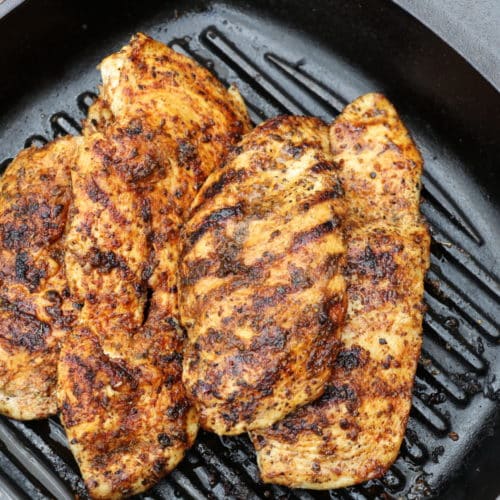 Grilled Cast Iron Chicken
Ingredients
1

lb

boneless skinless chicken breast

1

tsp

onion powder

1

tsp

paprika

1

tsp

garlic powder

1.5

tsp

oregano

1/8

tsp

cayenne pepper

1

tsp

cumin

salt and pepper to taste

1.5

tbsp

avocado oil
Instructions
Mix herbs and spices in a dish.

Slice both chicken breasts in half so they are less thick.

Salt & pepper chicken on one side, then generously season with spice mixture. (Optional: Pat the mixture into chicken.)

Flip over and repeat the step above.

Optional: If you have time and want to prepare a side, you can let your chicken sit with this mixture out on the counter for 10 minutes and it acts as a dry brine and soaks in the flavor of the seasoning more.

Heat up oil in cast iron skillet or grill pan on medium-high heat.

Once the oil and pan are hot, add the chicken breasts. Cook for 5-6 minutes on each side or until golden brown.

When the internal temp comes to 165 degrees F or juices run clear, it's ready. Let it rest on a cutting board or plate for a few minutes.

After they are done resting, serve and enjoy. 🙂