This watermelon cooler is the perfect pick me up in the summer heat.
Hydrating and lightly sweet, it certainly feels like a treat any time of day.
If you have a really huge watermelon that you can't eat before it goes bad, this is watermelon cooler recipe is great for that. Even if the melon isn't great and you don't want to waste it, it's perfect for that too. I can't believe I have never made this until now.
What you need
– 3 cups watermelon
– Juice of half a lemon
– Blender
How to make watermelon cooler
– In a blender, add watermelon and lemon juice
– Blend 20-30 seconds or until smooth
– 1 cup ice (optional)
– Pour in a pretty glass and enjoy
Notes:
This recipe is very forgiving. You can add whatever you want to it. Think of this as a blue-print that you can adjust to your taste.
Want to add mint? Do that.
Have lime instead of lemon? Delicious.
Have more or less watermelon? Totally fine.
Want it sweeter? Add a tablespoon of raw honey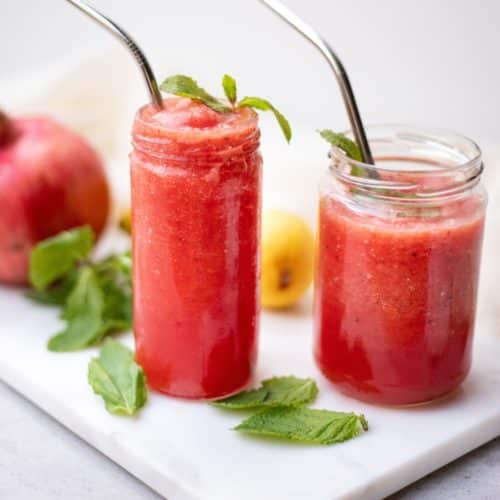 Watermelon Cooler (2-Ingredients)
Ingredients
3

cups

cubed watermelon

juice from half a lemon

1

cup

ice

(optional)
Instructions
In a blender, add watermelon and lemon juice

Blend for 20-30 seconds or until smooth

Pour into your favorite glass, serve immediately
I bet that most of us love watermelon..I mean, what's not to love? It always reminds me of summer cookouts with the family, and happy times. I love watermelon season. But the best part about it is all the health benefits that the fruit provides.
What are the benefits of watermelon?
According to researchers in the USDA's Agricultural Research Service (ARS), watermelon is full of antioxidants and lycopene. Lycopene is a natural chemical that makes certain fruits and vegetables red. It is said to be a great source of antioxidants and also helps with blood pressure. This means that consuming watermelon is beneficial for the health of your organs, cells, and nervous system.
The research states that antioxidants in watermelon help your body fight unwanted intruders and help keep your skin cells healthy. The non-protein amino acids repair your body tissue, help to regulate your blood pressure, and assists in digestion.
"Our research continues to find that the fruit contains a wide range of nutrients that improve your overall health." According to Larry Parnell, a USDA-ARS scientist.