Cast iron sweet potato fries are my go-to side dish. It never lets me down, and it only takes about 40 minutes from start to finish!
Cast iron is my secret weapon. You can certainly get super crispy potatoes in an ole' fashion oven with cast iron, no air fryer needed. This recipe is so easy, I'm not sure it can get any easier.
What do I need to make roasted sweet potato wedges?
The good news is, you don't need much of anything for this recipe.
Large cast iron skillet (or two, depending on how many fries you're making)
Sweet potato of choice
Oil of choice (Extra virgin olive oil, coconut oil avocado oil)
Good quality sea salt
No fancy ingredients here, just the way I like it.
How to Make Sure Cast Iron Sweet Potato Fries are Crispy
First, when you are cutting your fries, make an effort to cut them close to a similar size. It really doesn't need tp be perfect. But just know that if they are all a different size, some will be almost burnt by the time some are just starting to crisp up. But they'll still be yummy no matter what.
Second, you want to make sure that you give each potato ample room. You don't want it too crowded or overlapping because you will be steaming the potatoes instead of crisping them up. I actually love to use my cast iron pizza pan, it has a lot of surface area. I can fit a lot of potatoes on there and they always get so nice and crispy.
How to Cut Cast Iron Sweet Potatoes
For this recipe, you can cut your sweet potatoes in whatever shape you want. Wedges, fries, or rounds it does not matter. However, it is important to note that cook times will vary with different shapes.
I like to cut my sweet potatoes into wedges most of the time. In order to cut into wedges, cut the sweet potato in half horizontally the long way. Then cut the halves into quarters. Then cut about 5-8 wedges, depending on the size of the sweet potato. Each wedge should be about a half-inch thick.
To cut fries, follow the steps above. Then, cut the wedges in half to achieve the fry shape.
To cut round slices, turn potato horizontal, and cut vertical slices about half an inch thick.
You can store the leftovers in a glass or BPA-free plastic storage container, or you can wrap it up in some tinfoil to just throw in the oven to heat up for lunch.
How to Reheat Cast Iron Sweet Potato Fries
Wrap the fries up in some tinfoil or just simply throw them back into the cast iron skillet. Throw them in a 400 F oven for about 10 minutes or until hot.
You could also microwave them for about 45 seconds, although that is my least preferred method because they do not stay as crispy.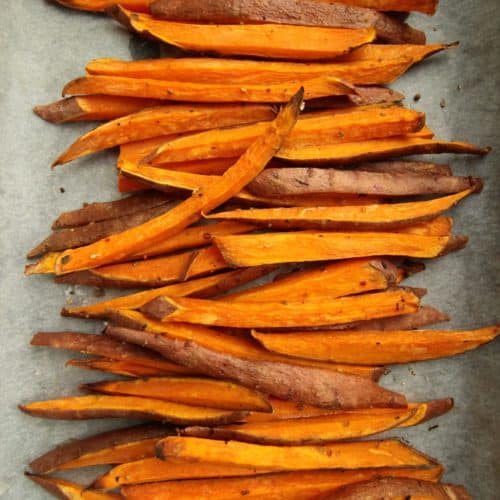 Cast Iron Sweet Potato Fries
The crispiest sweet potato fries you've ever had, just a few cuts away. In this recipe you don't need any corn starch or flours. So easy and super delicious.
Ingredients
2

medium sweet potatoes

1.5

tbsp

oil of choice

extra virgin olive oil, avocado oil, melted coconut oil

2

tsp

salt

or to taste

1/2

tsp

pepper

or to taste, optional
Instructions
Preheat oven to 425 degrees F

Slice sweet potatoes into desired shape (wedges, fries, rounds)

Distribute evenly across cast iron skillet(s), do not coverlap

Bake for 25 minutes or until slightly browned on bottom

Flip over once slightly browned on bottom and cook for an additional 6-10 minutes

They are done when your desired crispiness is achieved

Add a little more salt while hot, serve
If you liked this recipe, then try out this Cast Iron Skillet Chicken Breast. Enjoy! 🙂